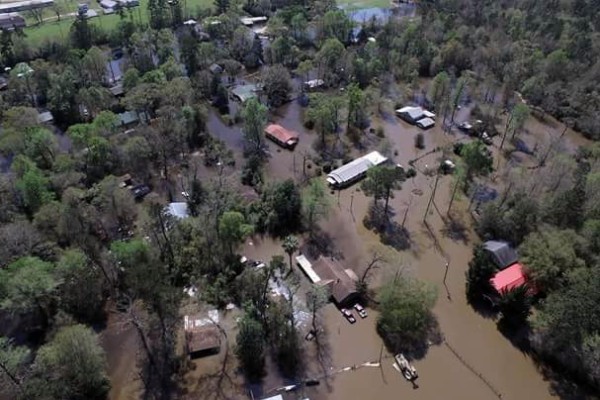 The Texas floods, and flooding in parts of Louisiana and Mississippi, have been covered by USA Today, Click2Houston, Weather.com, and other news organizations, and as I may have mentioned, my friends are out there.
Writing is a lonely occupation, they say, filled with shameless self-promoters bent on the get-rich-quick scheme. Oftentimes that's true. But sometimes it isn't. Sometimes you meet people along for the same ride as you.
The day I decided to write seriously, it seemed like a lot of other people made that same decision. Some had been lifelong writers seeking to take their hobby to the next level, others were new at it, with a lot to learn like me. I don't see or hear from many of these peers anymore. They have gone into different careers, got busy in their personal lives, got tired of the dream, or just disappeared without a word.
I want to tell you about two women, from the vicinity of Southeast Texas, who welcomed me into this realm of writing and criticism. To this day, I know what they are up to, and they still know about me.
Nobody puts more effort into character development than Chy Burch, whose neighborhood resembles a lake at the moment. She has also judged and helped organize WYRM's Gauntlet nearly every year since its inception, and anyone who knows her knows there is a popular fantasy series waiting to burst forth from her pen and into the mainstream. Some of us have been lucky enough to glimpse already.
Stephanie Cassey, who began the GoFundMe page "Deweyville Flood Victims" a few days ago, is also affected. When she and I began exchanging reviews, she made me consider vampire fiction in a whole new way, and I came to admire her use of bare bones dialogue, among other things.
Both helped me nail down the fundamentals, and urged me to tell the difficult stories, ones I was not always comfortable telling.
To anybody who can relate–fellow writers, readers, those who have lived through a natural disaster–if you are able to, please give. For my part, it is the least I can do. When I think of my friendships (my lasting friendships, of which there are too few) and my own development as a writer, there are no two people who've mattered more.